Website: fallbackbaby.com
<<BACK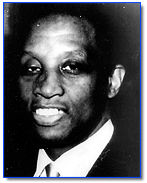 Dick Barnett was a three time All American basketball player at Tennessee State University in Nashville Tennessee. He led TSU to three consecutive N.A.I.A. basketball championships under the legendary Hall of Fame coach John B. McLendon. TSU was the first college team to accomplish that feat. Dick Barnett was named MVP two consecutive years in championship play in 1958 and 1959.
Dick Barnett was a number one draft choice in the National Basketball Association with the Syracuse Nationals. He later played in the American Basketball League with the Cleveland Pipers owned by George Steinbrenner of the New York Yankees in1962 and led them to a ABL championship. Dick Barnett rejoined the NBA with the Los Angeles Lakers with Elgin Baylor and Jerry West where he played for three years. He was later traded to the New York Knicks where he played on the only two championship teams in the Knicks history, in the 1969-70 and 1972-73 seasons.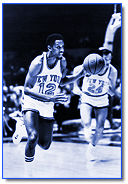 During Dick Barnett's long fifteen-year career as a professional basketball player, he was involved in continuing his education. While playing four years at TSU, he left without a degree. Realizing he must be prepared to face a changing society, while with the Los Angeles Lakers he attended Cal Poly of Pomona and completed his Bachelor's degree in physical education. When traded to the New York Knicks he continued to matriculate at New York University and was awarded a Master's degree in Public Administration. When Dick Barnett retired as an active player in the 1970's he was named assistant coach of the New York Knicks under head coach Red Holtzman. His number was retired and hangs in the rafters of Madison Square Garden.
Dick Barnett continued to pursue his studies and received a Doctoral degree in education from Fordham University. Dr. Barnett is now President of ARM, the Athletic Role Model Educational Institute, a non-profit organization with a focus on education for at risk students in the educational process.
Dick Barnett has augmented his educational contributions by extending his contacts, skills, and knowledge to assist corporations and businesses to better market their products and services to a variety of clients and customers. A partial list of clients include Dreyfus, New York Life, Madison Sq. Garden, IBM, Fordham Unversity, and the National Football League.
Dr. Barnett's experience in the front offices of the NBA franchise Portland Trailblazers as a player and staff consultant provides a comprehensive preparatory background in Sports Management and extends a hands-on expertise as a current assistant professor at St. John's University.
Website: fallbackbaby.com