<<BACK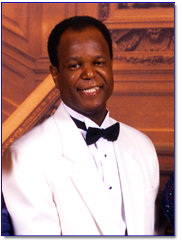 Michael P. Williams is a native New Yorker and founder and owner of a personnel agency in Manhattan. He matriculated and graduated with both a Master's Degree and Bach. Degree from John Jay College His background in the employment field spans twenty years. His agency has provided several thousand-employment candidates with jobs and working opportunities. Parenthetically, has also dedicated a major part of his life interacting with homeless youth.
Mr. Williams was born and raised in the South Bronx, one of twelve children. Early in his work experience, he began as a recruiter fro a New York employment agency. Being an entrepreneur at heart, Mr. Williams opened his own employment agency in 1997 called United Personnel. During this period of time, his commitment to homeless youth increased and resulted in an affiliation with a non-profit counseling organization with a focus on a holistic approach with dealing with estrange and troubled young people.
A chance meeting with Dr. Dick Barnett in 1988 began a very long and productive friendship. Mr. Williams was invited to participate as a guest speaker in a role model initiative that Dr. Barnett was conducting. By 1995, Mr. Williams had become a very effective and inspiring motivational speaker, lecturing to young people in schools and community centers throughout greater New York.
Mr. Williams and Dr. Barnett decided to collaborate and combine their expertise and talents to establish two basketball concepts, first, the Worldwide Basketball League, to provide a pleasant and wholesome atmosphere for adults. Men and women to have fun in a competitive environment, secondly, the Worldwide Basketball Association to extend the outreach of basketball to young people, and expose them to life skills, and intervention strategies that will improve their life chances by utilizing the following elements;
- Basketball Camps (Fundamentals)
- Motivational Workshops
- Educational Seminars
- Demonstration Projects
- Wellness Concept (Drugs, Alcohol, Tobacco, AIDS, Stress)
- Development of the Dream Initiative